Diana Dowthwaite – President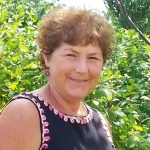 My husband and I joined the OPA this winter and took advantage of the lessons and leagues to learn more about this sport which has so quickly captured my interest and is now my newest passion. Sports have been a major part of my life both as a player and coach and learning this new sport has been an absolute pleasure. During my short "pickleball journey", I have learned new skills, exercised more and met new people, of all ages and skill levels. That is the beauty of this fastly growing sport, it is fun, challenging and provides opportunities for play at all levels. I believe strongly in volunteering and giving back, and as my long career with the federal government is winding down and my children are set on their career paths, I have the time, energy and skills to volunteer with an Association whose mandate and values resonates with me.
On the work experience side, I spent the first half of my career working in the various areas of government communications. At the mid-way point I moved into more senior management roles and with specialised management training advanced my career working as an executive in different departments delivering national programs within the health portfolio. During this 30 plus years work journey, I have gained experience in program delivery, strategic planning, financial planning, policy development and partnership building.
On the volunteer side, prior to children I was a Big Sister with the Big Sisters Association of Ottawa. While a Big Sister, I was also a Board Members for several years and led the fundraising and communications committee. With the birth of my daughters, I moved my energies into coaching soccer and volleyball teams. I have also volunteered at work leading fundraising efforts for Health Canada's Charitable Campaign. Most recently. I have been helping out the Association in coordinating a couple of the leagues.
Lynn Campbell – Vice-President
I have been on the OPA-APO Board serving as VP, Tournament liaison, Special events and Volunteer coordinator for the past two years. My continued participation in the future, should I be elected at the AGM, would mean that someone who knows the history of events and has been part of the conversations and decisions which got us to where we are today would have a seat at the board table.
I am someone known to generally, for the most part, get along with people and yet I am open to change and I like to make things happen. Nothing I accomplished in the past was done alone though and I want to thank all of the volunteers who have worked with me on behalf of the OPA-APO. So if you think that I can continue to make a contribution to the OPA-APO, I look for your support at the AGM. In future I hope to continue with events like Learn to Play and Tournaments.
Catherine Cote – Treasurer
I started playing pickleball on April 8, 2018. I remember the exact date because it was the day after I played my last volleyball match, the game I played for over 30 years. I fell in love with pickleball within the first minute and have been addicted ever since. I enjoy everything about this game, on and off the courts. I volunteer with Pickleball Canada as a translator and with the Ottawa Pickleball Association as the treasurer. I'm looking forward to improving my game, meeting enthusiastic pickleball lovers at events and becoming a referee. It's a matter of finding the right balance between pickleball, a full-time job and my precious family.
Lynda Morgan-Elson – Secretary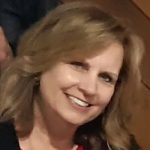 I have been playing pickleball for less than 2 years and am loving the sport and the pickleball community. Sports have been a significant part of my life, participating in a variety of sports such as volleyball, badminton, tennis, softball, and football, both competitively and recreationally. The comraderie and lifelong friendships derived from my participation in sports is what I value most, so I am thrilled to find a sport and new friends I can enjoy for many more years. My 31-year career with IBM is ending soon, which will hopefully enable me to spend more time on the courts and to promote this fantastic sport. My volunteering experience includes being president (and other positions) of an Ottawa badminton club, running softball leagues, and many years of volunteering and fundraising for my daughters' schools. I look forward to contributing to the success of the OPA and pickleball in Ottawa.
Rob Lutz – Outreach Ambassador
Quite a few of you know me on and off the pickleball courts. For those of you that don't, my love of the game of pickleball started about 3 years ago when I was introduced to it by my in-laws, and (my wife Jill and) I've been hooked ever since.
Prior to becoming a pball junkie, I was a university level women's volleyball coach in the States for over 10 years. I was blessed to coach and work with incredible people and athletes, many of whom went on to compete in the Olympics and professional ranks.
I've been on Board for the OPA for the last two years in the role of Skills Development and have been fortunate to work with all of the OPA instructors in several different areas. This past year I also took on the role of Community Ambassador for the club and have been trying fervently to get more places for all of us to play – both indoors and out. I'm looking forward to another year of hard work (and play!) ahead and appreciate your support.
Jill Lutz – Communications Chair
My parents introduced me & Rob to the sport two years ago. Pickleball has changed my life, and I want to continue giving back to the Ottawa pickleball community. When I'm not playing pickleball, I'm thinking about pickleball! Our community is tremendous – this sport brings together people of all ages and backgrounds and has a tremendous social aspect, while being competitive and providing an avenue for skill development at the same time.
Kevin Ward – Tournament Director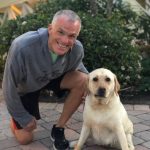 Three years ago while walking our dog past a community park in Florida I heard a strange and unfamiliar sound. As we ventured closer I discovered that this "annoying " sound was coming from a plastic ball full of holes rebounding off what looked like large table tennis paddles. After stopping to watch for a while I became intrigued. Coming from a lifetime of competitive tennis, I concluded that this would be a good sport to try. As soon as I attended my first recreational Pickleball session I was hooked. Making the transition from teaching to retirement has indeed been easier because of my involvement with the OPA , and Pickleball in general.
During my teaching career I had the pleasure of coaching over 100 school teams and 20 Regional and Provincial Volleyball teams. In 1992 I was awarded Canada's Coach of the Year and in 1996 our Ottawa team claimed the National Championship. Although I am proud of the results of former teams, I am most proud of giving youngsters the chance to participate in a wide array of activities. Over the past 40 years I have made fitness an integral part of my life competing in several marathons, half marathons, 10 and 5 km races, and triathlons. Last Winter I was fortunate enough to qualify for the Florida State games in cycling. When I am not playing Pickleball or training , I can usually be found spending time with our grandson, at the farm, or walking our yellow lab. I look forward another term as TD in the hopes of providing players with all the best experiences tournaments can offer.
Carl Goldman – Financial Advisor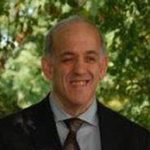 I was introduced to pickleball 18 months ago through a family acquaintance. Having successfully competed in several table tennis tournaments many years ago in Montreal where I grew up, I immediately became addicted and joined the OPA. Since then, I have participated in the skills and drills sessions and leagues offered each semester, which has allowed me to move up through the colour levels and be more comfortable and competitive playing in tournaments. Playing in the Ottawa/Gatineau pickleball community is extremely gratifying. It allows me to meet wonderful people and expand my circle of friends. I can't say enough about pickleball. I regularly promote the sport to family and friends, and to new people I meet along the way.
On the professional side, I am a Chartered Professional Accountant with 25 years of experience working for the Canada Revenue Agency, occupying auditor positions in the Income Tax, GST/HST, and International Tax sectors, before retiring 2 years ago as Manager of the Risk Assessment/Systems Development section of the International and Large Business Directorate.
Since my retirement, I have volunteered by preparing income tax returns for seniors, disabled, and low income individuals as part of the Community Volunteer Income Tax Program offered jointly by CPA Ontario and the CRA. In my effort to contribute to the Ottawa pickleball community, I recently became involved by volunteering as league coordinator for various colour leagues in the OPA
Paul Leck – Skills Development Coordinator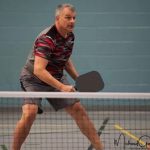 After 32 years in a high school science classroom and coaching various high school and club sports, I retired into the sport of Pickleball. I have been playing for just a year now and enjoy the challenge of learning new skills. Combining my love of teaching with my Pickleball addiction, I have taken on the new role of skills coordinator to ensure members can develop both player and instructor skills at all levels. If you want to share your Pickleball experience with others as a skills instructor, please email me at skills@ottawapickleballassociation.com
Michael David – New Member Placement Specialist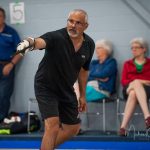 I have enjoyed being involved the Ottawa pickleball scene for a few years and have met some amazing people along the way. I have served in various capacities such as Ottawa ambassador, and am a former OPA board member. The sport has come a long way and continues along a positive trajectory guided by an excellent current leadership group. Please reach out to me if you're new to pickleball – I can help you figure out how to get started. membership@ottawapickleballassociation.com
Evelyn Eldridge – Executive Director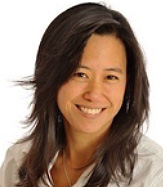 My role as Executive Director is to assist in the growth of pickleball in the Ottawa area by providing support and access to organized leagues, player development, private coaching and local tournaments.
I am always looking for new venues, initiatives and ways to promote Ottawa pickleball, so please feel free to contact me if have ideas to share.
leagueplay@ottawapickleballassociation.com